Top Stories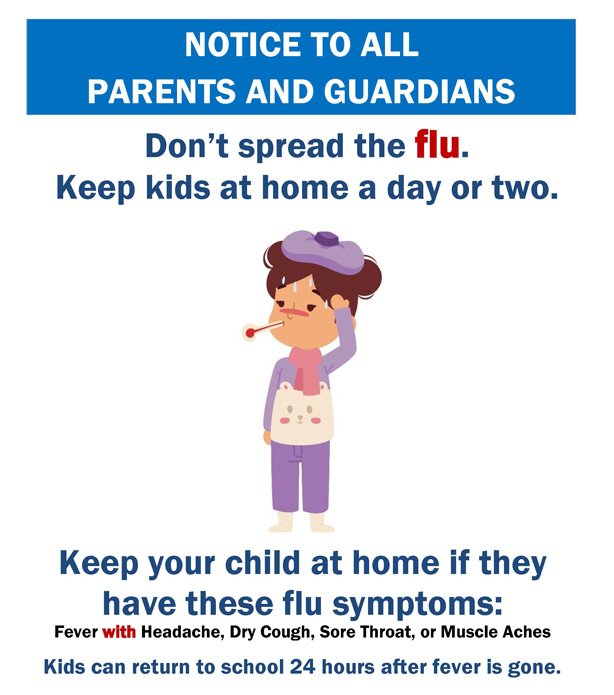 Edinburg Parents,
Student absences, especially at the elementary level, is steadily becoming a concern as the number of absences continue to rise. The illnesses are not just one virus, but a combination of a variety of symptoms and confirmed cases of strep, and influenza A and B.
We are urging parents to keep their children home if they are sick, have a temperature above 99.5 degrees, experience flu-like symptoms, complain of body and/or head aches, or have severe sinus congestion. If your child has a fever today, please don't send them to school tomorrow. If you have to give your child Tylenol to get through the day, please don't send them to school. If they experience vomiting, diarrhea, or severe sinus congestion today, please don't send them to school tomorrow.
We are working with our teachers, students and custodians to wage war against these germs in our building.
We ask that parents monitor all symptoms. We will continually disinfect our building and monitor student attendance throughout the coming weeks.
Stay healthy!
read more
Attention Parent(s)/Guardian(s),
You have been invited by Mrs. Reiss to sign up for "2020 Spring Parent/Teacher Conferences (Pre-k thru 12th Grade)." Please go to our website at www.ecusd4.com and follow these instructions.
Where to Start:
Click on the "Parent Teacher Conference" tab on the navigation menu. This will take you to the registration/sign in screen.
Sign In: If you previously signed up for SOCS calendar reminders, you are already a registered user for Parent Teacher Conference (PTC) and will use your email and the same password used for calendar reminders.
Sign Up NOW! If you have not yet registered, you will complete the registration screen that asks for name, email and password. Upon completion, you will have password protected login access and will receive an email confirming your registration and login credentials. You will also have access to create calendar reminders.
You Are Now At The Parent/Teacher Conference Screen
Signing Up for Parent-Teacher Conferences
Step 1: Choose the conference you wish to attend. Once you have chosen the conference you will be taken to a list of teachers associated with the conference.
Step 2: Select the teacher(s) from the list or by typing a last name in the "Search Teacher" field. You can reserve time with up to eight teachers. You can register for additional teachers once you complete the current process.
Step 3: Enter the student's name.
Step 4: Click continue.
Step 5: Check the box next to the conference times(s) you wish to reserve.
Step 6: Click Update (the time frame(s) you chose will be colored green).
At this point you may sign up for conferences for additional teachers or additional students by clicking on the "Teacher Selection" button.
Choose additional teachers OR
Repeat the process you just completed for additional student(s) choosing new teacher(s) and entering the additional student(s) name(s).
Click Update.
The time frame you chose is colored green (registration for the additional teachers or student(s) is added to your Confirmation Registration Report).
At the bottom of the screen you will see a confirmation of your conference registration. You will have the option to "click here to print" to get a copy of your Conference Registration Report.
If you have any questions or problems please contact Mrs. Stacy Glasscock.
read more
On behalf of the students, staff, and administration, we welcome you to the Edinburg CUSD #4 School website. We are glad that . . .